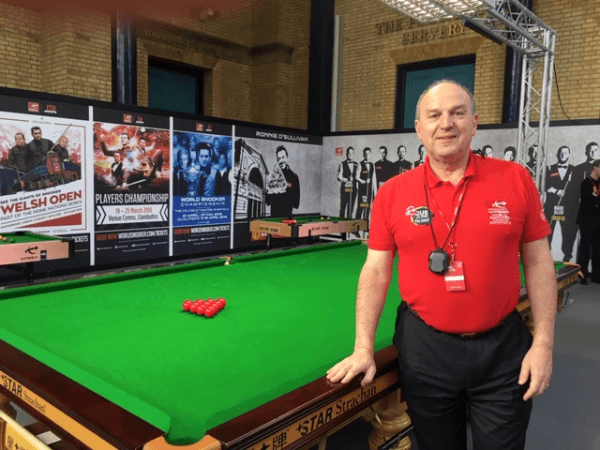 Supporting the Growth of Cue Sports in Canada
"The last Canadian to win a professional ranking title was Bob Chaperon at the 1990 British Open. Since then, the Canadian snooker front has been very quiet."*
Canadian Cue Sports has suffered somewhat of a decline in recent years for various reasons.  The average age of a pool or snooker player is advancing, and high-profile tournaments have reduced in number.   Right now, there isn't any Canadian representation on the professional Snooker tour, and no high-profile prospects coming through.
Perhaps Canada's most well-known Pool Champion, Alex Pagulayan recently attempted to cross over into the Snooker scene.  He attempted to qualify for Q-school, and win a place on the Professional Tour.  Unfortunately it was not to be.  The only real claim to fame for Canadian Cue Sports since then was a win for the legend, Cliff Thorburn, in the World Seniors Masters Championship in 2018.
With an ever-aging player base and no real opportunities for newcomers to actively get involved, the future does look somewhat bleak.  Consequently, more opportunities are needed to open up the sport, to get players back into Pool Halls and Snooker Rooms and rebuild the momentum.
Building a Bridge
Canadian Cue Sports Academy was created to bridge the gap between the desire to play, and the ability to play.  With such a diverse population in Canada many cultures are aware of the sports of both Pool and Snooker.  Most remember the great days of the 80's and 90's when Canada had a strong Global presence.  Evidently, we have already seen players dusting off their cues and getting back into the game after long absences.  As well, a flurry of University level students keen to pursue a hobby in the hope of gaining some notoriety, or even just to beat their friends.  A few refresher lessons and they are already reaping the benefits.  As a result, they are becoming more consistent and gaining the confidence to sign up for tournaments.
Our goal is to give prospective players, Champions and enthusiasts the opportunity to hone their skills.  Working with clubs across Canada we aim to open up the Cue Sports network to new player by connecting them with well equipped, supportive establishments who are keen to grow the sport and keep their businesses thriving.
Olympic Inclusion?
Recently, Cue Sports has been considered for Olympic inclusion too with a bid presented for Paris 2024. Unsuccessful on this occasion it is only a matter of time before it is accepted.  From there the game will continue to grow again as popularity increases; particularly in North America – a largely untapped market for Snooker, and a huge client base for Pool.
Structure & Professionalism
Positioning ourselves as the premier Cue Sports coaching service in Canada, and backed by the WPBSA and CBSA governing bodies, we will be well placed to support the inevitable growth.  We hope to have a key hand in that growth by developing the next generations of players, while also increasing the ability and desire of players today.  Above all, our combination of high-quality coaches, professional coaching methods and next generation development drives us to put Canada back on the global map again!
Join Us!
Please help us to support this growth by sharing our story, and spreading the word.  Canadian Cue Sports are coming back!
One way to help the growth is by subscribing to our site.  For instance, you will be kept up to date with news about our continuing growth efforts.   Additionally you will be the first to hear of any coaching events and promotions.
To find out more about our efforts, or to enquire about booking a lesson please get in touch with us.  We will be more than happy to discuss the sport we love!
Thank you for your support, and for being part of the Growth!
*Ref: https://snookerhq.com/2018/09/23/when-canadian-snooker-ruled-world